Screens for Windows and Sliding Doors
Replace or repair window or door screens with Mobile. We offer home installation. Or pick up replacement screens and do it yourself. We manufacture new aluminum window screens and patio doors to fit virtually any size window or door frame.
We'll also re-screen your existing frames if you bring them into the shop.
We can help solve your pet problems with our pet products, PETSCREEN and Dog Guards.
5 frame colors to choose from

Aluminum or fiberglass mesh material

Heavy duty pet mesh

Extruded patio screens

Patio doors with steel rollers

We carry all related supplies
Learn More About Our SECURITY SCREENS
For more information on measuring for screens, watch our video on how to measure for a sliding screen door.
___________________________
How do I measure my window to properly fit a screen?
Sounds like a very simple question, especially for a screen company that has been in business for over 40 years, right? Of all the questions we get asked, this is far and away the toughest to answer. There are standard sized windows. There are no standard size screens. You may have sliding windows or they could be single hung, double hung, casement, awning, hopper or maybe something I can't think of.
Let's start with the most common window in our area, sliding. Every brand of sliding window has its own method of measuring and installing a screen. In Albuquerque there are probably over 100 brands of sliding windows that have been installed over the last 40 years, each one with its own method to install a screen. So let's ask again. How do I measure for a screen?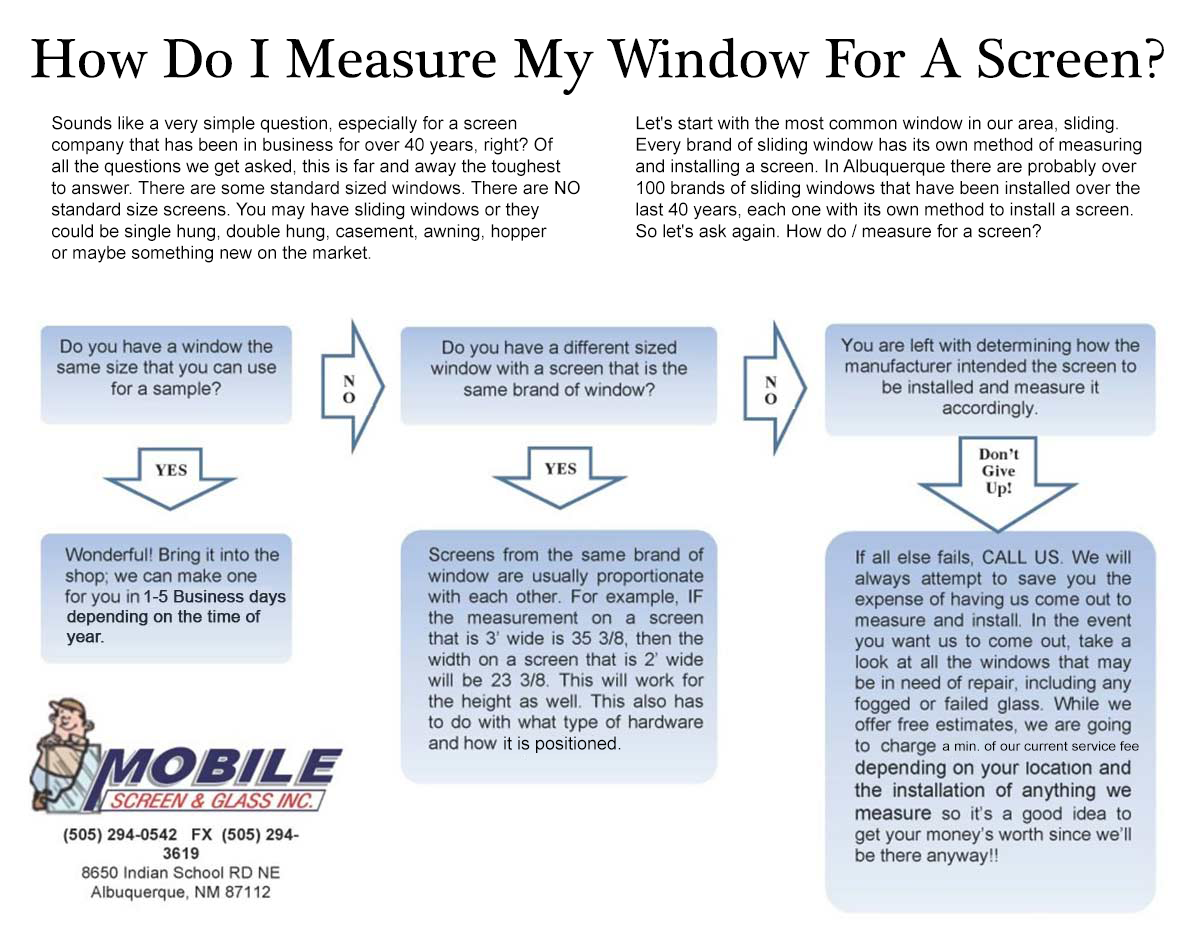 Installing and Adjusting A New Patio Screen Door
Sunscreens
BEAT THE HEAT with sunscreens! We manufacture three different styles, all designed to lower cooling costs. When used on the exterior of windows, glass doors, sun spaces and other glass areas, they can stop a large amount of the sun's heat and glare before it strikes the window or enters the room. Phifer sun control products have been installed and proven effective on millions of commercial and residential applications worldwide.