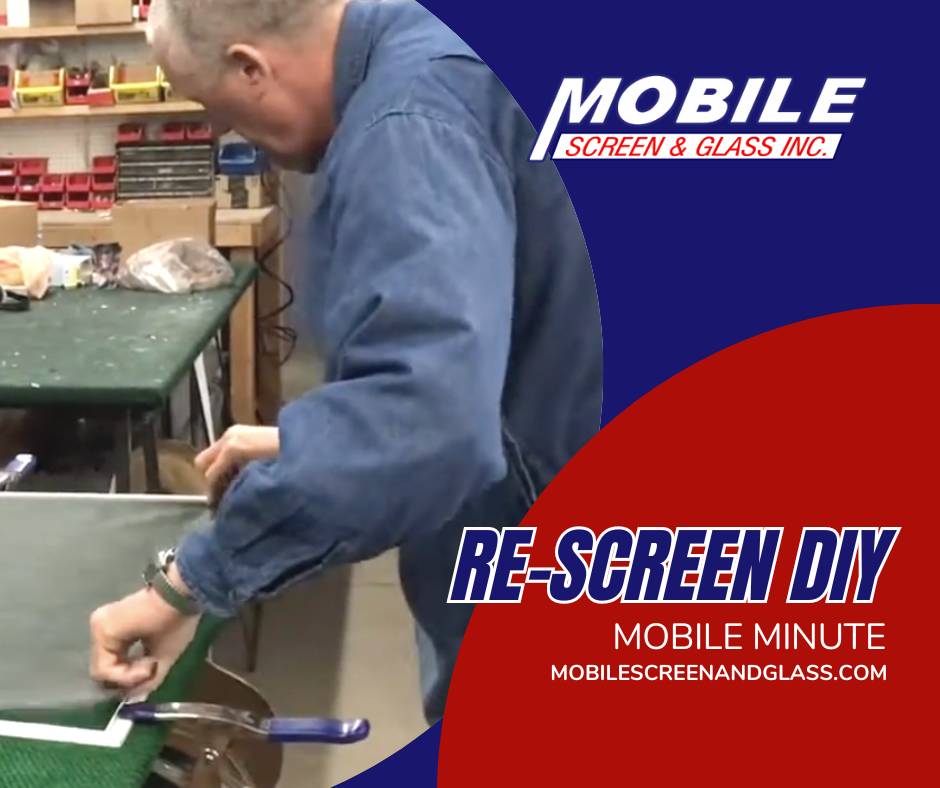 DIY Friday – Re-screen your window
November 3, 2023
🦃 Mobile Minute: Thanksgiving Holiday Edition 🦃
At Mobile Screen and Glass, we wanted to take a moment in this week's Mobile Minute to wish you all a Happy Thanksgiving! This time of year is not only about feasting and gratitude but also about ensuring the safety and security of your home. So, let's discuss two important things for this season.
1️⃣ Home Security When You Travel 🏡 We understand that many of you may be traveling during the holidays, which means leaving your homes unattended. To protect your sliding glass door from potential burglars, we highly recommend installing a Charley Bar. This easy-to-install security device acts as a deterrent and prevents the door from being opened from the outside. Make sure to add Security Screens to your Christmas wish list for enhanced protection throughout your entire house.
2️⃣ Last-Minute Repairs for Windows, Glass, and Screens 🪟 If you're hosting guests or simply want to spruce up your home before the holiday season kicks into full swing, don't hesitate to schedule any last-minute repairs with us. Our team at Mobile Screen and Glass specializes in window, glass, and screen repairs. We'll ensure that your home is in top shape and ready to impress your loved ones.
To provide further assistance, we've put together a quick guide below based on our installation video for the Charley Bar:
Measure the width of your patio door, ensuring a tight fit.
Deduct the thickness of the receiver cap (1/8 inch) from the measurement and mark it on the Charley Bar.
Cut the Charley Bar to the appropriate width using a hacksaw.
Center the Charley Bar laterally on the wall jamb and mark the holes using a pencil.
Use an eighth-inch drill bit to make the proper holes on the wall jamb and patio door side, being cautious not to hit the glass.
Insert the screws provided with the Charley Bar into the holes and tighten them securely.
Install the receiver clip on the opposite portion of the patio door, aligning it with the mark made on the patio door light.
Drill the necessary holes on the patio door, taking care not to penetrate too deeply.
Attach the receiver clip using the screws provided, ensuring they are tightened properly.
Apply the rubber tip to the raw cut end of the Charley Bar for protection and proper seating within the crate.
Use the key to lock the Charley Bar into its locked position when leaving your home unattended.
Remember, the Charley Bar provides an excellent level of security against burglary while still allowing easy access to your patio door when needed.
From all of us at Mobile Screen and Glass, we wish you a safe and joyous Thanksgiving holiday filled with warmth, laughter, and cherished moments with your loved ones. 🍁🍽️🦃
Disclaimer: The information in this post is intended for informational purposes only. Please consult a professional for personalized advice and installation.